How Does Cloud Computing Technology Work
In this modern time, most organizations preferred to host their service on a Cloud instance on local premises because the cost involves in purchasing a high-Speed server and maintaining it to meet the business need is huge. This article will show you a definition of cloud computing, why organization uses cloud computing, and How It Work.
What is Cloud Computing?
Cloud computing allows us to access remote servers and store data via the internet and can be accessed from everywhere in the world with an internet connection.
Examples are Google Cloud, Amazon Web Services (AWS), and Microsoft Azura.
These cloud-based services are stores of shared resources offering computing, software, storage, database, and network services that can be quickly deployed at scale.
How Does Cloud Technology Work?
In more advanced terms, cloud technology works through data centers. For cloud computing to work, three major modules have to be considered (front end, back end, and network.)
Front-end: This refers to the application required for the client or end-user to access the computing. In most cases, the application is an internet web browser although other systems may require special user frontend applications or interface to connect.
Backend: This refers to cloud provider system infrastructures such as computers, servers, operating systems, and storage devices, and software applications run on the cloud are run on the computers.
Network: This is the component that allows both the service provider and client or end-user to the above two communicate via the internet connection.
Type of Cloud Computer Environment
Public Cloud: This type of cloud computing environment is openly accessible to anyone. These publicly-offered infrastructures are owned by third-party vendors (Amazon Web Services (AWS), Google Cloud, IBM Cloud, and Microsoft Azure.) These services are a good option for start-ups based on Subscription and pay-as-you-go.
Private Cloud: are built exclusively to a specific IT infrastructure of a company that is located either on a company's local property or in the cloud provider's data center
Hybrid cloud
A hybrid cloud is a combination of both Public Cloud and Private Cloud environments connected through local area networks (LANs), wide area networks (WANs), virtual private networks (VPNs), and/or APIs.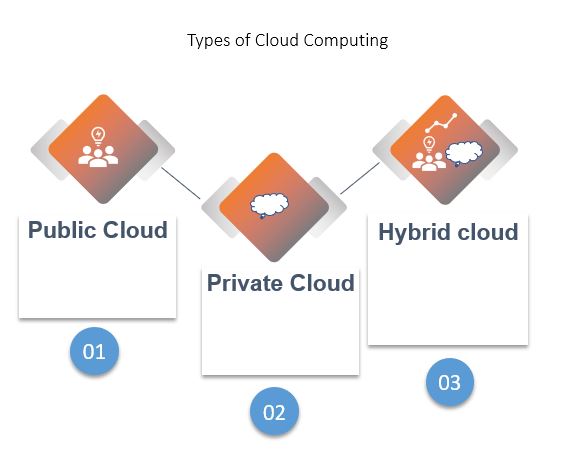 Branches of Cloud Computer
The main branches of cloud computing include software as a service (SaaS), platform as a service, infrastructure as a service (PaaS), Infrastructure as a Service (IaaS)
Infrastructure as a Service (IaaS):
In this type of cloud computing environment, your servers, storage, and networking connectivity equipment are brought to the cloud. examples include Green Geek, Amazon EC2, and Google Compute Engine.
Platform as a service, infrastructure as a service (PaaS):
The environment provides businesses with the tools to test projects and develop applications. Examples include Windows Azure, AWS, and Google Cloud
– By managing the platform that your developers work on, they can focus on the big picture while your PaaS provider ensures the system is working properly.
Software as a service (SaaS):
This environment delivers the programs you need ready to go. All your business has to do is subscribe to the service.
– Microsoft Office 365, Google Workspace, and Salesforce are great examples of SaaS providers because they give businesses the whole package.
Note:
Infrastructure as a Service (IaaS) s common for private clouds, Platform as a service, infrastructure as a service (PaaS), and Software as a service (SaaS): tend to be mostly public.
– This is because the consumption-based subscriptions associated with creating and maintaining private PaaS and SaaS aren't always the most cost-effective choice.
What Advantages Can the Cloud Offer Businesses?
Benefit of cloud Computing
Cloud technology offers various benefits including, security, scalability, productivity, and continuity. for businesses looking to improve service and resources.
Security: Cloud computing helps an organization protect data from cybercriminals in an event of a data breach and natural disaster and because it's cloud-based your information can be accessed through internet connections everywhere in the world.
Scalability: As every business plans to grow, space for IT infrastructure can seriously impact the financial budget. With the cloud, there is a less capital-intensive need for IT-related space.
Productivity: With a Cloud-based environment accessible to data easily in a matter of a minute you be able to stay ahead of the backlog of tasks that build up when you're not at your office desk and can work at home or while traveling by connecting to an internet connection.
Continuity: When there are emergencies and natural disasters happen, your data protected are assured
Technology continuity: you'll be safe from emergencies and natural disasters with redundant UPS power and generator backup.
Again , you can read on Overview of Cybersecurity in Organization , Cybersecurity in Banking Fraud , Cybersecurity Incident Response Plan , Threat Intelligence in Cybersecurity .
I also recommend reading on How do I back up Documents, Pictures, and Desktop folders, How to Download Files from OneDrive to Phone , How to Download Files from OneDrive to Phone , Backup PC Files and Folder to OneDrive , How to Install Microsoft Office from Extracted WinRAR Files it will be beneficial.
Conclusion
Now, you must have an idea of How Cloud Computing Technology Work. Ask your questions in the comments below. Try to follow us on Facebook, Instagram , and Twitter. Also if the post has helped you Kindly subscribe to our YouTube channel to continue learning.