How to use Google Keep to take Pictures
If you want to save your thoughts wherever you are, Capture what's on your mind when and where you need it and share your thoughts with family and friends with the google keep app install on your phone to help you to achieve them with the tab on the button on the phone you are through to go.
In this article learn How to install Google Keep app on a Phone and use the Google Keep app to take pictures and attached them to notes.
How do you take pictures on Notes?
1. Firstly, on your Android phone or tablet, Install Google Keep app on Phone
2. After Installing the App
3. Launch the Keep Note App on the phone
4. Input the username and password of Google Keep
5. Tap on "Add image"
6. After Tab on "Take Photo" button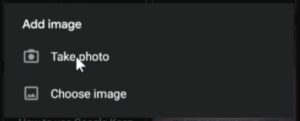 7. Capture the photo and attach it to a note
Watch the Video

Again, you can also Google Drive App – How to Share Files on Mobile, How to use Microsoft OneDrive for backup files, How to use Google Drive for backup files and How to connect Local PC Devices and Resources to Hyper VM
I will also recommend you read the post on Data protection in Cyber security, How Does Cloud Computing Technology Work, Turn ON or Off Two Factor(2F) Authentication for your Gmail using your Phone Number, Add alternative Email or Phone to Reset Account Password in the event of forgetting your Login credential, How to Use Google Translate and How to Login to Gmail Account, Sync Phone contact, Export Contacts from Gmail Account to Phone it could be of help.
Conclusion
Now, you must have an idea of How to use Google Keep to take Pictures. Ask your questions in the comments below. Try to follow us on Facebook, Instagram , and Twitter. Also if the post has helped you Kindly subscribe to our YouTube channel to continue learning.



More Video