This guide will show the list of vision Hyper-v Virtual PC and
The software is available in three forms:
Hyper-V for Windows Servers

Hyper-V Server

Hyper-V on Windows 10
Requirements
The Hyper-V role can be enabled on these versions of Windows 10:
Windows 10 Enterprise

Windows 10 Pro

Windows 10 Education
Read More :How to Install Hyper-V on
Windows
Read More:How to move Hyper-V Virtual Machine in Windows
Several Hardware requirements must be fulfilled for Hyper V to run smoothly on a computer. These requirements include a 64-bit OS, as well as 4 GB to 8GB of RAM.
Complete Check
If all OS, hardware and compatibility requirements are met then you can enable Hyper-V in Control Panel: Programs and Features: Turn Windows features on or off and it will have 2 options.
Hyper-V platform

Hyper-V Management Tools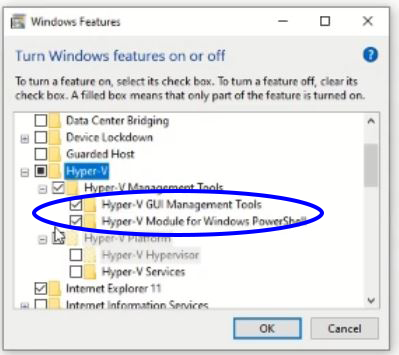 [TIPS]
If you see Windows Hypervisor Platform instead of Hyper-V in Control Panel: Turn Windows features on or >off your system may not be compatible for Hyper-V, then cross check above requirements.



More Video